Jára Cimrman's Table in Sou100 Žižkov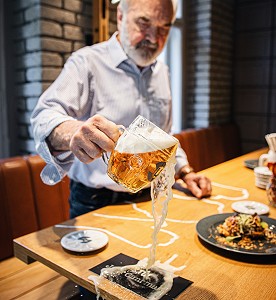 Who is Jára Cimrman?
Jára Cimrman is a universal Czech genius, created by Czech comedy writers, Jiří Šebánek and Zdeněk Svěrák. According to the narrative of Jára Cimrman Theatre, he was one of the greatest Czech playwrights, poets, musicians, teachers, travellers, philosophers, inventors, scientists, criminal investigators and athletes of his time.
Cimrman's biography
Jára Cimrman was born in Vienna between 1869 and 1874. His father was Leopold Cimrman, a Czech tailor, and his mother was Marlen Jelinková, an Austrian actress.
According to the seminar The Messenger from Liptakov he died at the very beginning of the First World War, while the fictional village of Liptákov was Cimrman's home in his old age.
For a long time nothing was known about Cimrman's marriage, let alone about his children.
Cimrman was not married and consequently had no children, even though it is well known that even an unmarried man can easily have children. However, no such offspring can be found in the official records which means that we must use other methods. The most reliable of these is to search for hereditary traits. But as far as Cimrman's physiognomy is concerned, not much evidence has been preserved. Cimrman, as you may know, had a strong dislike of close-up photography — only a few aerial photographs of him are available. And so there is only one source to draw upon: the master's bust. From this, one characteristic detail is apparent: the particular shape of his side profile. There is an unusual bulge on the crown, called a "genius bump" in literature. So the task was set to find similar profiles among the population of the Liptákov area.
Table contour method
The person being examined puts his head on a table, the scientist presses it with his left hand and outlines it with his right hand. This looks simple at first glance, but you wouldn't believe how difficult it is to make some people put their head on a table. Conflict situations often arose. Such research can only be carried out by a strong scientific personality.
After only a few days of hard work it turned out that the U Sirotků pub, just before closing hours, was the optimal place for obtaining contour profiles, as many people were already ideally prepared at their tables.
This work has born fruit, i.e. a fruit, and this fruit is a thirty-year-old Liptákov citizen, Josef Schmoranz.
We may discuss it, dispute it, even disagree about it, but that is all we can do.