SOMETHING GOOD AND SMALL FOR BEER
Exactly for this occasion, there are shared baking pans of starters that will satisfy your tastes when you go for one beer with your friends. Not only they do look great, they are also incredibly tasty. It is up to you which one you would prefer. However, we recommend trying both.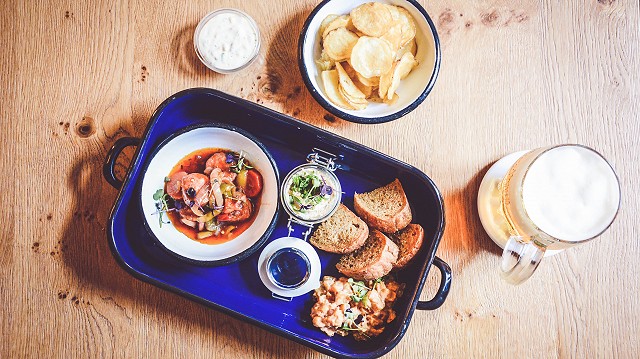 Option 1
Potato chips with homemade tartar sauce
Traditional Olomouc cheese tartare with sourdough bread
Homemade pork crackling spread with sourdough bread
Sausages in black beer served with fresh bread
329 CZK
Option 2
Honey duck wings with vegetable crudités and garlic-parsley remoulade
Beef tartare with yolk, garlic and fried bread
Homemade duck liver pate with blackcurrant chutney and sourdough bread
Pickled cheese with vegetables, beer mousse, and fresh bread
549 CZK
SHARE GOOD FOOD
Our menu is full of delicacies. You have taste for everything, and you cannot choose, still the same dilemma. In this moment, the shared baking pans are the right choice. Whether you share them with colleagues during a business dinner, with friends watching football or with your family at Sunday lunch, you will always be a star. We have created shared baking pans with the top meals from our menu so that you can taste the best that you will find in our Sou100.

Option 1
Half chicken
Fried pork tenderloin with mashed potatoes and small cucumber salad
Six weeks matured cheese crumbed in homemade breadcrumbs and fried in butter, served with French or sweet potato fries and homemade tartar sauce
Choice of 1 additional side dish and 1 sauce
529 CZK
Option 2
Rump steak from grill
Pork tenderloin from grill
Pork rib roast with coleslaw salad, fresh horseradish, mustard and bread
Choice of 2 additional side dishes and 2 sauces
619 CZK